Customized Connectors Workshop + Challenge 2021
Get to know our parametric customizing software and win prizes!
Register until 8 November 2021!
3D Printing & Design Automation to power Mass Customization! Get creative in our upcoming workshop + challenge and learn how to use design automation power yourself.

3D printing has enabled fast prototyping and manufacturing of new products. Combined with design automation, everyone, even those with little technical capability can now utilize the power of 3D printing to create their personalized products. Mass customization is a concept born from such a process, with various applications and use cases: Customizable robotic gripping systems, made-to-measure 3D-printed shoes, eyewear, or patient specific medical orthoses. An especially versatile field are customized 3D printed connectors: fixtures, adapters, brackets, attachments, joints and mounts.
In the Customized Connectors workshop + challenge we will be giving you an introduction into our script based CAD software (trCAD) and our front-end customizer platform (paramate). In addition, our partners will provide valuable insights into concepts of 3D printing, design automation and mass customization.
After the workshops, we would like to invite you to participate in our Customized Connectors challenge. Come up with creative ideas that use design automation and 3D printing and use your new powers learned in the workshops.
If you have an innovative mindset, are super excited to try out new things and experiment with how mass customization works, you're the perfect fit for this workshop + challenge!
Customized Connectors workshop + challenge will happen on 23 until 30 November, 2021 as an after-work event- series, ONLINE.

Registration Deadline
Register until November 8th, 2021, 23:59 (CET)
Schedule and Agenda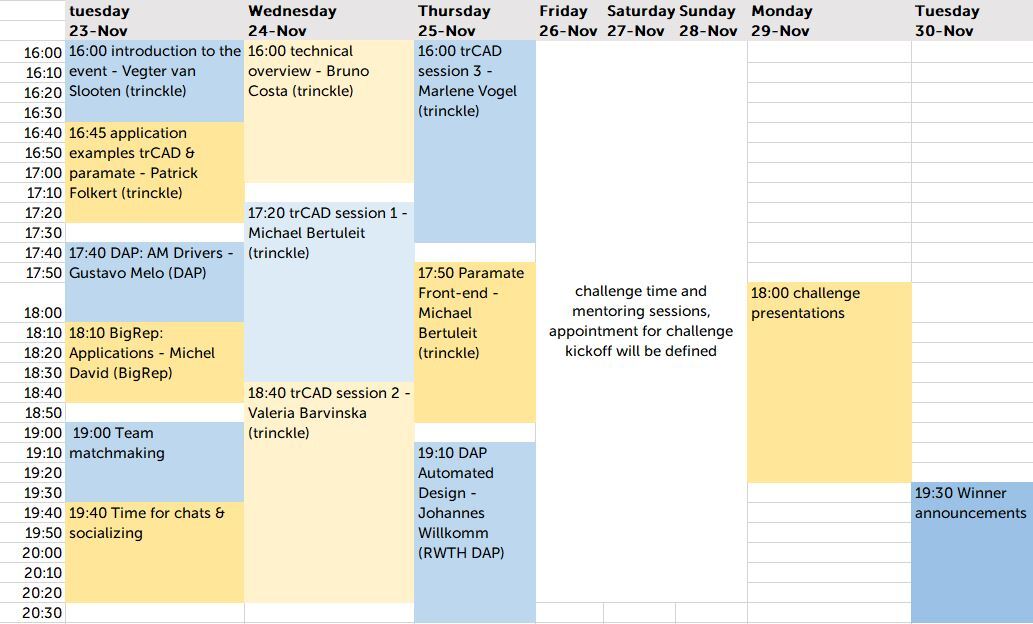 Challenge Criteria
Fit to the challenge topic
Innovation level of idea
Added value by customization
Usefulness of 3D printing as a production method
Quality and complexity of technical implementation
Team progress while participating
Bonus: Help us spread the word! Post your challenge contribution in social media posts with #paramate.

Teams have to document posts in their final presentation
Only quality of the posts and the relevance of the community the post addresses are evaluated (number of upvotes / likes are not evaluated)
Prizes
The winning team is rewarded with 1.000 €, runner-ups compete for a prize pool of 500 €, and a special social media prize of 500 €.
One-year commercial license to trinckle's design automation platform and software - paramate and trCAD for winning team.
Business and technical consulting with trinckle worth €2.500 for winning team.
Jury
Main Jury:


Gustavo Melo
Ralph Rosenbauer
Mirek Claßen
Peter Bankuti
Bruno Costa
Michael Bertuleit
Thomas Gust
paramate Social Media Jury:
Vegter van Slooten
Bruno Costa
Marlene Vogel
Organizer
trinckle, at the heart of the mass customization movement, developed paramate and trCAD and is organizing the Customized Connectors workshop + challenge.
Partners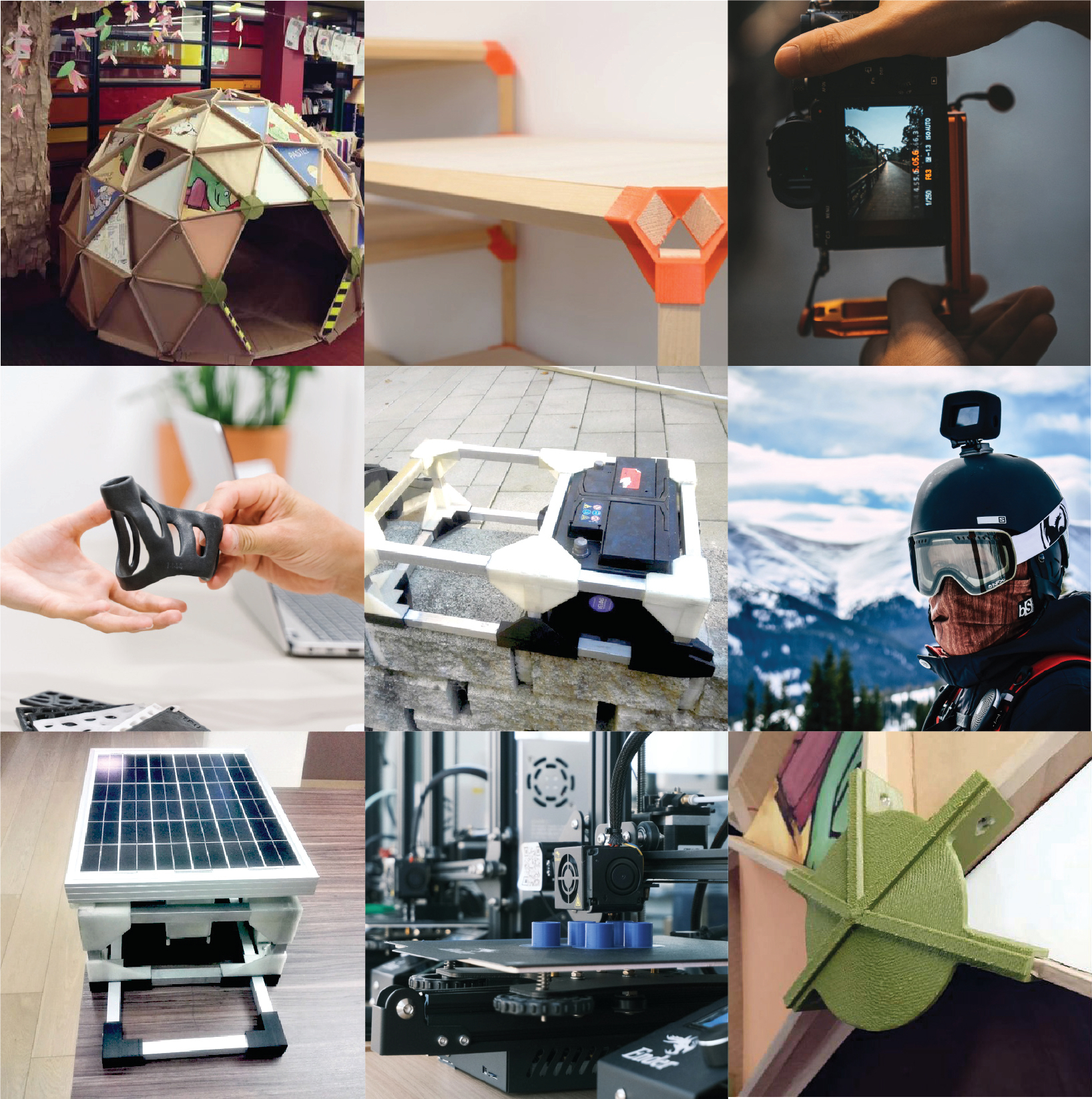 Terms and Conditions for the Event
No purchase obligation.
By registering to this competition, the participants declare that they agree to these terms and conditions and acknowledge our Privacy Policy.
The contest part is meant for teams, but individuals can also apply as a solo-team.
We may record video / audio of workshop sessions that may include the video / audio streams of participants attending the sessions. Participants allow us to store and use these videos and screenshots from the videos for marketing purposes.
For participating, accounts for paramate and trCAD are needed. For the duration of the event every participant gets free of charge access to our software paramate and trCAD (one account for paramate and one for trCAD), that may only be used for the purpose of preparing for and taking part in the event.
The accounts for the event may be transferred into free-of-charge beta user accounts for non-commercial usage after the event. For the avoidance of doubt it is clarified that we decide whether we transfer the accounts into beta user accounts.
No replacement price available. The prize draw is not open to trinckle employees or their families.
Do not rip models off the Internet, all work submitted must be original work.
The jury's decisions are final - there is no correspondence in the event of a dispute.
The winning works are documented and can be used for advertising purposes.
Contestants' solution / idea for the contest must include use of our software, paramate and/or trCAD.
The winners retain all intellectual property rights of their work.
Winners may be required to participate in all promotions resulting from this competition.
The winners will be notified on Tuesday, November 30th, 2021.
Privacy Policy
Our contact details
trinckle 3D GmbH
Neuendorfstr. 26
16761 Hennigsdorf (near Berlin)
Germany
info@trinckle.com
trinckle 3D GmbH ("Trinckle" "We" "Our") respects the privacy of those using Trinckle's website at www.trinckle.com as well as those attending any events or using other services provided by Trinckle (together "Services"). This privacy policy will help you understand what personal and impersonal data we collect and how it is used and processed. If you use the services as your data subject ("You"), we receive, collect and process your personal data. "Personal data" is data that enables one to identify a person (within the meaning of the EU General Data Protection Regulation 2016/679 ("GDPR"). This is in contrast to "non-personal data" or "impersonal data". This is data that is not specifically used to identify a person. We are obliged to comply with the provisions of the above-mentioned laws and other relevant laws and regulations with regard to the processing of personal data. We reserve the right to change this privacy policy at any time, so please review it regularly. If we make material changes to this Privacy Policy, we will send a notification to the Services with the updated Privacy Policy or contact you by email (using the address you provided on the Services).
Our legal basis for processing
The legal basis for the processing of your personal data is, when not stated otherwise or another legal basis applies, the performance of the contract to provide you with the Services, as permitted by article 6 (1) (b) of the GDPR. Trinckle may also process your personal data when we have a legitimate interest to do so, as permitted by Article 6 (1) (f) of the GDPR, for example for marketing purposes. When relying on legitimate interest as the reason and legal basis for processing personal data, we have considered whether or not those interests are overridden by your rights and freedoms as a data subject and have concluded that they are not. When the processing is such that your consent is required by applicable law, we will declare it and obtain Your consent, and this will be the legal basis for the processing of Personal Data, as permitted by article 6 (1) (a) of the RGPD. However, you have the right to withdraw that consent at any time, without affecting the legality of the treatment based on the consent before its withdrawal. If such withdrawal results in us no longer being able to provide the Services to you, we may stop providing those Services.
Types of data we collect
Personal data collected and processed by Trinckle are mainly collected directly from you. Trinckle will only collect such personal data that are relevant to the purposes described in this Privacy Policy, including the information that You give us, as well as the information collected technically when using our Services. While the provisioning of certain personal data is necessary for the use of our Services, certain personal data is provided voluntarily. Personal data can be updated and complemented with data collection from private and public sources, such as commercially available directories and websites. The data we collected include the following personal data and non-personal data information:
Contact information (including name, address, organization, phone number, email address)
Login information (email address, user name, temporary password, date/time of registration)
Information provided by you during or after registration or application for an event, or while or after attending an event (this includes information about your skills relevant for the event, motivation for attending the event, solutions and/or product ideas as a submission to the event, your team taking part in the event, date/time of registering to the event). If you provide information about team members, make sure to have their consent for giving that information. If you give information about solutions or product ideas that are not your own, make sure that you have the consent of the owners of those ideas.
Website session data. We store some basic information about where You are connecting from (source IP - Ip address where you connect from, timestamp - when did you connect, user agent - browser information). This information is only kept until You log out using the Logout feature.
Failure to provide Trinckle with the required information may mean that We are unable to provide the Services to You, perform the contract necessary to provide the Services, or comply with Our legal obligations. Trinckle retains Personal Data collected in accordance with this Privacy Policy for the period necessary to fulfill the purposes outlined in this Privacy Policy, unless a longer retention period is required or permitted by law. Thereafter, if the Personal Data collected is no longer necessary for the purposes specified in this Privacy Policy, We will delete all the Personal Data mentioned above in Our possession within a reasonable period of time or make it anonymous, ie " non-personal data ". More information on retention times of personal data will be provided upon request.
How we use personal data
The personal data we collect can be used to:
Provide You with the Services
Improve the Services and develop the Services
Correspond and maintain the relationship with You
For advertisement, marketing, and communication purposes (including also transferring Personal Data to third-parties for communication and marketing purposes subject to the third-party's privacy policies)
For communication by the third-party partners who organize Services and other events
For market research
To enforce the Terms of the Services
To comply with legal obligations applicable to Trinckle
Trinckle will use your personal data for targeted marketing and other similar purposes, and with your consent only, for Trinckle email marketing. You can opt out of receiving promotional emails by following the instructions in those emails. If you choose not to participate, We may still send You non-promotional customer information, such as emails about Your account, the provision of the Services, or Our ongoing business relationship with You. For the purposes set out in this Privacy Policy, Personal Data may be disclosed to our processors and other third parties, such as external service providers. In such an event, Personal Data will only be disclosed for the purposes set out in this Privacy Policy.
A list of processors and other recipients can be provided upon request. Personal data may also be regularly transferred outside of the European Union and the European Economic Area ("EU / EEA") to Trinckle's service providers and business partners. In the event that Personal Data is transferred outside the EU / EEA, such transfers are made to a country that is considered to provide a sufficient level of privacy protection by decision of the European Commission or the transfers are carried out using adequate safeguards, such as standard data protection clauses adopted or otherwise approved by the EU Commission or the competent data protection authority in accordance with the GDPR. More information can be provided upon request.
How we protect data
Personal data is protected by appropriate technical, organizational and industry standard security measures. Although Trinckle makes good faith efforts to store Personal Data collected from the Services in a secure operating environment that is not available to the public, we cannot guarantee the absolute security of that information during its transmission or storage on our systems. You should always keep in mind that no transmission over the Internet is 100% secure or error-free. We will post a notice on the Services in the event of a material security breach that compromises your privacy or personal data and, if necessary, we will contact you directly. We may also temporarily close the Services to protect Personal Data. For the avoidance of doubt, protecting all information and account registration credentials is your responsibility. Access rights to our records and systems require a personal username and password that are granted only to Trinckle personnel or a Trinckle service provider whose position and job assignments include such rights of access and handling of customer data.
Cookies
A cookie is a piece of information or a small text file that a website stores on a visitor's computer and that the visitor's browser provides to the website each time the visitor returns. Trinckle may use cookies to help identify and track visitors, their use of the Services' website access preferences, improve quality, tailor recommendations, and develop the Services. If you do not want cookies to be placed on your computer, you can configure browsers to reject cookies before using the Trinckle website, with the disadvantage that certain features of the website may not function properly without the help of cookies. For more information, see our Cookie Policy.
Your data protection rights
Under data protection law, you have rights that include:
Your right of access: You have the right to request copies of your personal data from us.
Your right to rectification: You have the right to ask us to rectify information that you believe is inaccurate. You also have the right to ask us to complete information that you think is incomplete.
Your right to erase: You have the right to request that we erase your personal information in certain circumstances.
Your right to restriction of processing: You have the right to request that we restrict the processing of your information in certain circumstances.
Your right to object to processing: In certain circumstances, you have the right to object against processing of your personal data.
Your right to data portability: You have the right to request that we transfer the information you have provided to us to another organization, or to you, in certain circumstances.
You are not required to pay any fees for exercising your rights. If you make a request, we have a month to respond to you. Contact us at info@trinckle.com if you want to make a request.
Complaints
If you consider that our personal data processing activities are incompatible with applicable data protection laws, you have the right to lodge a complaint with a supervisory data protection authority.
Copyright © trinckle, 2021